Bass Angler Sports Society Entertainment Theme Park
B.A.S.S. Theme Park Development Study
The Bass Angler Sport Society and publication developed a preliminary design study for a one hundred-acre entertainment theme park and new corporate headquarters. The theme park would be the first of its kind devoted solely to the sport of Bass fishing.
The scheme for the park utilizes the anatomical qualities of the celebrated Bass fish in developing construction elements that can be assembled into pavilions and shed structures both enclosed or open air. These fish-like facilities would then be dispersed across the site and water elements to house the theme park's program such as an aquarium, the lure museum, the various sponsor pavilions and entertainment areas and rides for the family.
The site plan was to be developed with thematic ponds representing the various natural environments that the bass lives. These ponds would then serve as an outreach program of teaching individuals the craft of bass fishing.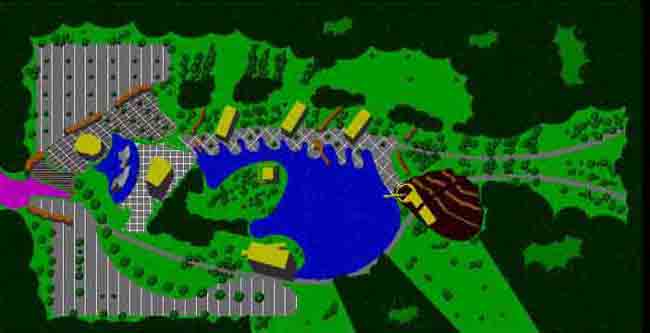 Site Plan